Hi there. Rosa here acting as a bookmarker for the wise and wonderful storyteller/acoustic string afficionado Carlos Anaconda.
I had originally thought I would be blogging about Pub Rock, but it turns out to be much denser material than I thought it would be so I'll need another week of emailing back and forth with people who know more about these things than I do (that would be most) and doing *ahem!* research in pubs with Englishmen, and listening to all that English rock and roll. Oh, the stress of it all.
Here's an apetizer to next week's subject: It's a nice video of Puh-Brockers Brinsley Schwarz, fronted by the Jesus of Cool himself Nick Lowe:
So just a couple of quick updates…
Like Killian and Tricia, our family took a road trip. We went to Louisville, Kentucky but also got to know Memphis and Little Rock along the way. I blogged the Terrastock photos on Ditchwater Blog and Ramon opined about it on at The Free Press AND Charlie's blog about it was reprinted in The Houston Press blog. My gracious I wonder if Terrastock got that much post-coverage in Louisville.
If you peek over at The Houston Press site you'll see that the dude with the Travis Binkle hair is back and still sportin' that punk rock classic 'do. He wrote some nice things about Houston considering Houston wasn't so nice to him.
Speaking of The Houston Press, The HPAwards Showcase is coming up. There is lots of talk about who was nominated and who was not nominated and – quite frankly – I couldn't give two shits less. I didn't like popularity contests in highschool and I don't like them now.
Lukas of "experimental" band Satin Hooks, at last year's showcase.
But the Showcase itself is a blast and has been called a funner, debaucher, more manageable-er showcase event than SXSW. I'd concur seeing as I quit even wanting to go to SXSbehemoth. It's earned big britches but I prefer small brithes turns out.

Rad flyer by Domokos of Future Blondes
Tom Carter played here this past Sunday as part of Zaika, a duo he does with Marcia Bassett. It was phenomenal. The show was recorded (audio) that night so hopefully we'll get to hear that recording at some point. It'll most definitely be one of my 2008 top ten. On a sadder note, Tom and other Charalambides Houston ex-pat Christina Carter both saw their fathers pass away earlier this year, on the same day no less, of natural causes.
Other than that, oh ex-Houstonians, it's hot as Hades, there were storms everyday this week – some with rain – some without, Vietnam town and Freedmanstown have been almost completely leveled and the area has been re-christened "Mid Town", ZZ Top is still very relevant around here whether you like it or not (and I do), I go to record stores entirely too much (five times this week alone – I have the Rockin' Pneumonia…) mostly to *ahem!* do r&d for The Mutant Hardcore Flower Hour Radio. Ramon is still at the Free Press giving it all he's got, I still do the picture taking and the kid is still WAY deep into firefighters and army guys and dogs (he has this fantasy band called "Dog Robbers") and add to that a growing rock collection (of the geological kind).
For those that missed it, The Greenway Three closed its doors just before Christmas. Maybe it was written about in this here blog. Perhaps even by me. But I just ran across this photo taken by an employee, of two ex-employees, on its last day in existence.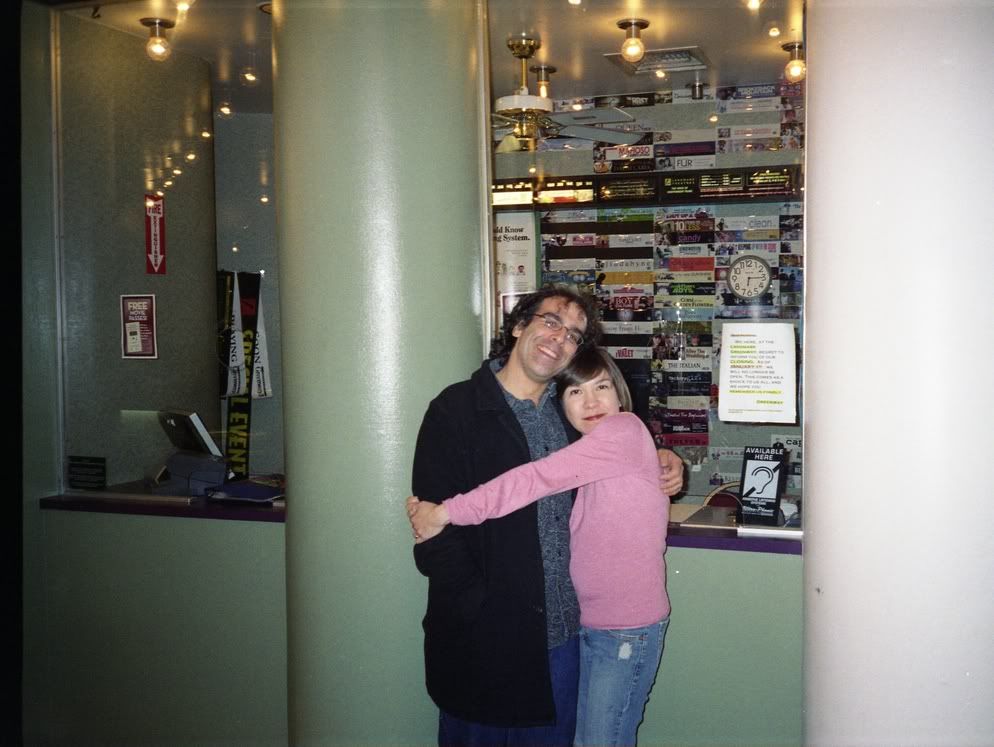 Talk at y'all next week. Don't blow your fingers off with fireworks tomorrow.